Group Functions.
Five Senses can accommodate group functions, large groups and private parties.  Our event coordinator an our online tools makes planning your event easy! Our group function packages are all-inclusive and include services, a food spread, a Five Senses service parting gift, an Aveda product parting gift, taxes and gratuity. 
We have enjoyed hosting functions such as,
   ~ Personal: Wedding Parties, Showers, Bachelorette Parties, Reunions, Celebrations, etc.
   ~ Company: Team Building, Holiday Parties, Meetings, Spa/Golf Outings, etc.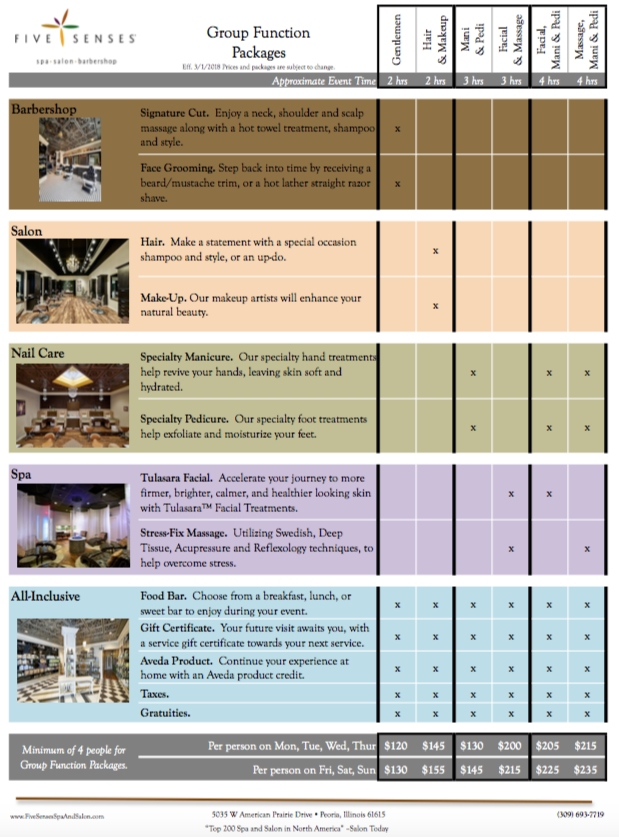 Large Group Functions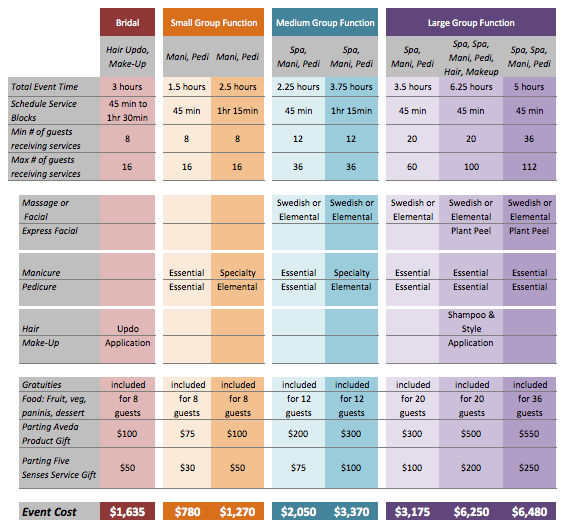 Function Agreement Form.
Click here for the Group Function Agreement Form.
Group Services Grid.
Keep track of all the individuals in your group and what services they would like to receive with our Group Services Grid Tool.
Group Functions and Meetings
Are you looking for a unique setting to hold your next meeting or honor valued clients and employees? Book your next function at Five Senses Spa and Salon and you will find the perfect accommodations to achieve success.
Based on the size of the meeting, we can transform our reception area, salon or manicure area into a dedicated meeting space. Reserve a specific area or the entire location.
Consider incorporating services for your attendees during or at the end of the meeting. Five Senses will help you coordinate a menu of services that will turn a routine meeting into a productive and relaxing occasion.
"I was looking for a unique way to reward my employees so I scheduled an 'off-site' staff meeting. Much to their surprise, we pulled up at Five Senses. Their 'lunch meeting' turned into a spa lunch with spa services!"
~ Matt Hertzog, Illinois Central College Associate Dean
"Holding our support group at Five Senses Spa and Salon has been a great way to encourage attendance. The manicure space is transformed into a presentation area with a projector screen and seating for the attendees. Everyone looks forward to the pampering they receive after our meetings!"
~ Kelly Frick, Methodist Operations Manager, Breast Health Center
Bring Relaxation to Your Office or Your Next Event.
Reward clients and staff with well-deserved pampering. Five Senses can provide services remotely that include:
Neck and Shoulder Relief
Scalp Massages
Hand and Arm Massages
Allow Five Senses to relax those at your office for a few hours or all day. We can also accommodate on- and off-site events such as corporate functions, special events, golf outings and more.
"Having Five Senses perform on-site chair massages for our employees was just the thing we all needed. It was great to be able to do something special for them, thanking them for all of their hard work and dedication."
~ Nancy Kingery, Maui Jim
"We distributed gift bags to participants at our last 'Ladies Night' event. The ladies were delighted to receive a parting gift that included a gift certificate for Five Senses and Aveda products.They were also appreciative of the hand and arm massages given by the staff of Five Senses at the event."
~ Bob Woolsey and Betty Schlacter, Jones Bros. Jewelers
Golf and Spa Retreats
Combing golf outings with a spa day allows companies to include non-golfers in their day of appreciation and acknowledgement. Five Senses can pamper 12 or more individuals simultaneously. As the golfers shoot through their holes, the spa guests are traveling through spa, nail and hair services. At the end of the spa journey, the guests are able to join the golfers for concluding festivites.
"During our annual charitable golf outing, we treat a group of the golf pros' wives to Five Senses. The women enjoy their experiences and look forward to the next year!"
~ Char McCollum, Maui Jim
"After hearing everyone's golf scores, I was glad I chose to go to the spa."
~ Joe Denman, Carpet Weavers
WEEK News 25 Golf/Spa Event Participant
Whether you're saying "Thank you," "Awesome job," or "Happy Holidays," Five Senses Spa and Salon's Corporate Program is appropriate for all of those occasions when you need to recognize a job well-done or show appreciation for a business relationship. Our corporate program allows for people offer Corporate Gifts, Bring Relaxation to Your Office or coordinate a Company Function.
Corporate Gifts.
Are you looking for a special gift that is sure to bring a smile to a deserving face? Recognize employee performance and valued clients with a relaxing approach. A gift certificate to Five Senses Spa and Salon is the perfect way to show your appreciation.
"Clients are surprised to receive a gift certificate to Five Senses as a thank you after purchasing a vehicle. Our staff also enjoys being pampered on birthdays and other occasions."
~ Gary Uftring, Jaguar/Land Rover of Peoria

"We enjoy saying thank you to our clients as they are moving into their new homes with a Five Senses gift certificate. They can then look forward to a break in the midst of their unpacking."
~ Tom Armstrong, Armstrong Builders of Peoria
We offer complete spa and salon services for men and women including: Hair, Make-Up, Nail Care, Massages, Body Treatments, Facial and Skin Treatments, Hydrotherapy and Waxing.
We have created the form below to assist you with the gifting process here at Five Senses Spa and Salon.